OSSTF/FEESO is supporting the
National Beer Can Boycott Against Crown Holdings
Crown's Toronto facility has been unionized for 25 years and won the 2012 Plant of the Year Award for "safety, productivity and budget management". Now Crown wants to cut their wages by 33%. New employees would earn 42% less than current employees. This is not fair. Stop the race to the bottom.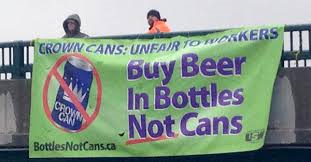 Beer companies who use Crown Holdings cans include:
Molson, Coors, Labatt, Budweiser, Moosehead and Creemore.
-OKAY- Not included in this boycott are:
cans of Sleeman's or aluminum bottles of Coors, packaged at another unionized plant.
Help Stop The Race To The Bottom... 1 Bottle at a Time!